About Fixed Wireless Broadband
Wireless is relatively new and not widely known method of distributing Broadband. We have included some information below on some of the key areas and questions that new clients have. If you have any other questions, please refer to the FAQ section of our Support Page or get in touch.
Let's forget about wireless and start by looking at broadband.
When we are talking about the internet, Broadband is the name given to a service that offers high speed access. Unlike the 'dial up' services that used to be very popular, broadband is much faster and is 'always' on. Any broadband service uses a network to offer this access – the network can use fibre, copper wire, satellite, radio or a combination of one or more of these.
OTHER THAN A MOBILE PHONE, HOW ELSE DO WE USE WIRELESS TECHNOLOGY AT THE MOMENT? 
If you've always thought of broadband as needing fibre/cable/copper, the idea of it being wireless can seem confusing or complicated. If you think about anything that is wireless such as an automatic garage door, there is a connection between two points i.e. something sending a signal (the remote control) and something else receiving it (the motor that moves the door). The Signal Co uses a similar concept with wireless broadband. All technology and infrastructure is part of a larger rollout plan to offer a strong alternative to the current fibre to the node NBN.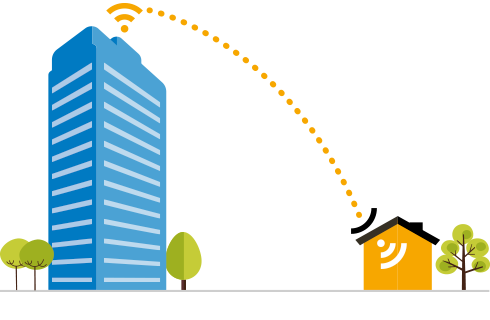 SO WIRELESS BROADBAND IS SIMILAR TO 'NORMAL BROADBAND', BUT IT JUST USES A DIFFERENT TYPE OF NETWORK? 
Yes, Wireless broadband uses a hybrid network of fibre and radio to give you high speed access to the Internet. In it's simplest form, transmitters on a building or mountain sends the broadband via radio waves to a client, who has a receiver on their roof. This receiver (typically a small dish) receives the signal and then using an ethernet cable connects it to your router or PC, allowing you to connect to the internet.
WHAT IS CONTENTION AND WHY IS IT IMPORTANT?
Contention is a technical term in the broadband industry. It is a ratio that is used to analyse the number of clients to the amount of available broadband. If you have a service with high contention, it will be unstable and slow, resulting in buffering and twitching. You might have noticed this during peak times on a weekly basis or public holidays, when internet usage spikes. An example that is used to describe the concept of contention is a highway. If you are travelling on a two lane highway and are the only car, then you will be able to travel without interruption. If you are one of dozens of cars, it is still possible to travel fairly well … however if you are one of hundreds or thousands, then you are likely to slow down and your overall experience will be worse.